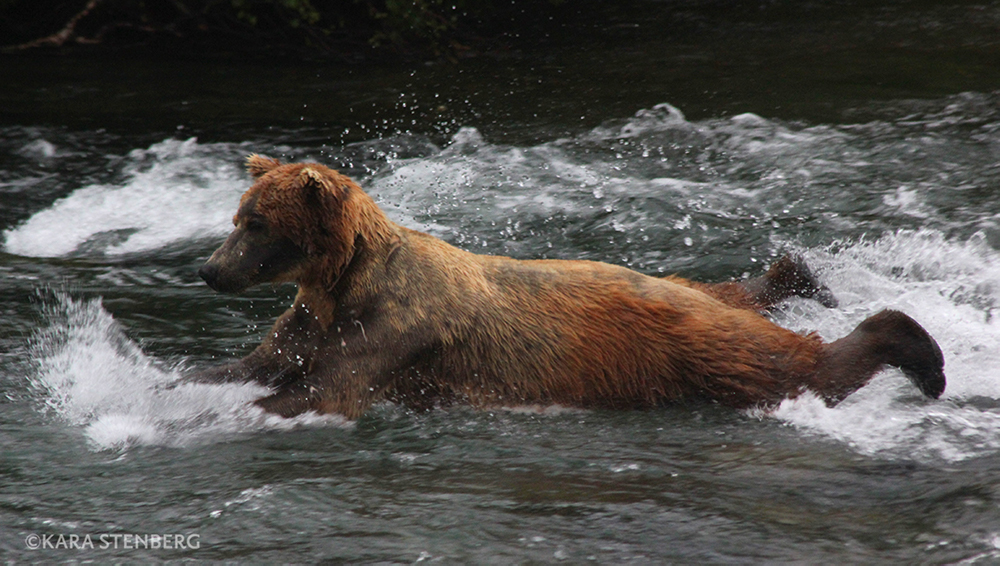 Can I drive to Brooks Lodge?
No, driving to Brooks Lodge is not possible. Like most of Alaska, there are no roads to our area and we are accessible by air only.
How long does it take to get there?
The flight from Anchorage to either King Salmon or Kulik Lodge (our sister lodge) is approximately 1 hour. To Brooks, it is another 25 minutes via float plane.
What are the rooms like at Brooks Lodge?
The 16 rooms at Brooks are all alike on the inside. They each have four twin sized bunk beds – two upper and two lower beds. Each room is heated and has a private shower and restroom. Some are individual cabins and some are attached. If any of the individual cabins are available the day you arrive, they will be assigned solely to whomever booked earliest (lowest reservation number). Brooks Lodge does not accept any room requests.
Can I do Laundry at Brooks Lodge
No. Laundry facilities are not available at the lodge.
Is there WiFi available at Brooks Lodge?
No. Internet service is not available at the lodge.
Are there a lot of bugs?
There can be depending on how dry or wet it has been. Some people choose to bring head nets. Most just bring a good insect repellent. We recommend something with a high DEET concentration for maximum effectiveness.
Can I pay for meals in advance?
Yes. When you make your reservation, you may specify that you would like to prepay for all or part of your meals with your package. Any amount may be paid in advance and you will be given a credit voucher in the amount you prepaid which can be used not only for meals, but also for anything while at the lodge.
Are cocktails available at Brooks Lodge?
Yes. Beverages at Brooks Lodge can be purchased in the main lodge during lunch and dinner times. Beverages typically include Alaskan Amber beer on tap, a selection of wines, and premium liquors.
Can I bring food into my room at Brooks?
No. Food or drinks of any kind (except water) are not allowed in the rooms at Brooks Lodge because of the chance of being visited by a bear.
How many nights can I stay?
If any one night is in July, there is a three night maximum stay. There is no limit to stays in June, August or September.
When are the salmon running?
Salmon runs vary from year to year and it is not possible to predict them with absolute accuracy. Most years, a large run of sockeye (red) salmon will begin to enter the Brooks River during the middle of June. This run continues through July and salmon usually begin to spawn in the Brooks River in early August. The spawn continues throughout August and peaks during early September.
Can I hike on my own in the Brooks area?
Yes, there are hiking trails in the park. Maps are available at the NPS Visitor Center next to the lodge.
How far away are the platforms for wildlife viewing?
There are three viewing platforms on the Brooks River, all within walking distance from the lodge. They range from 300 yards to one mile from the main lodge.
What is the weather like in Katmai?
The weather in Katmai is very unpredictable. Temperatures can range between 45 and 70 degrees and even lower in September. Wind and rain are common so bring layers that can be added or removed as the weather dictates.
Are you strictly a fly fishing only lodge?
On Brooks River below the bridge, you can use a spinning rod with a fly on the end. Above the bridge is fly fishing only. All of our guides are fly fishing instructors so if you would like to learn to fly fish, we can teach you during your stay.
How many guests are there to each guide?
The number of guests to each guide is 2 to 4 depending on the situation.
Can we take home the fish we catch?
Due to the short growing season and cold water temperatures in Alaska, resident fish grow and mature slowly. Guests are asked to release all their catch of resident freshwater fish. The Brooks River regulation allows 1 salmon per person per day to be kept, and it must be caught below the bridge.
How are fish packaged to take home?
The salmon you keep must be placed in a plastic bag and taken directly to the fish freezing building and frozen whole. The National Park Service does not allow any fish cleaning at Brooks. Fish boxes are available for purchase in the "Katmai Trading Post." If you have a long distance to travel home, insulated fish boxes and freezer packs are available to purchase at a number of locations in Anchorage.
What is a fly out and where do you fly out to?
A fly out means that you take an airplane to a different river to fish for the day. We fly to many different areas depending on what type of fish you want to catch and where the best spot for that species is at the time you are there.
When is the best time to come?
Anytime is a good time at Brooks Lodge. Each time of the year provides a unique experience.
What type of fishing gear is used at the lodges?
Cabelas, Redington and Simms waders, and Redington and Sage rods equipped with Ross and Redington reels are included with any guided excursions that you choose to book. Fishing gear is also available to rent during the rest of your stay.
Can I use felt soled wading boots or wading boots with cleats?
No. The Alaska Board of Fisheries has deemed invasive species a significant potential threat to Alaska's aquatic ecosystems. Effective January 1, 2012, felt-soled waders and wading boots will no longer be legal footwear when fishing in Alaska's fresh waters. Wading boots with cleats are also not allowed at the lodges. Our lodges do have rubber soled wading boots for our lodge guests.
Don't see the answer to your question? Contact our trip experts by clicking right here.
For further details on Katmai National Park, please visit the NPS website.