While we have some items for sale on-site at our Katmai Trading Post, we highly recommend our guests travel well prepared.
Weather
Be prepared for stormy weather and occasional sunshine. Summer daytime temperatures can range from 50 -70 degrees Fahrenheit, with an average low of 44 degrees. Strong winds and sudden gusts frequently sweep the area. Skies are clear about 20 percent of the time during the summer season and light rain can last for days. Thus, packing for a wide range of weather is recommended.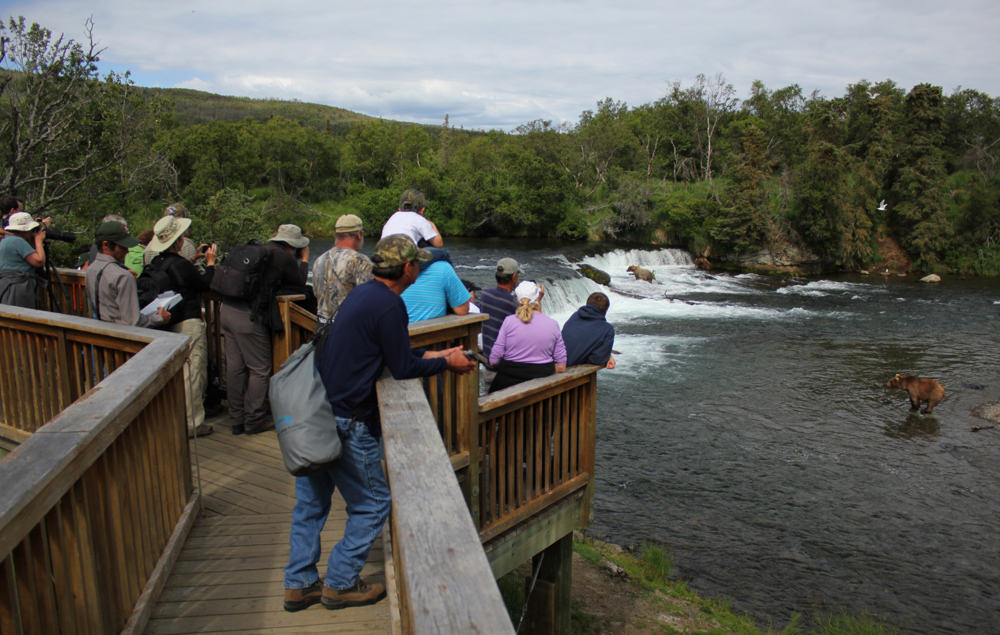 The atmosphere at the lodge is casual, so bring comfortable medium-weight sport clothes. We recommend dressing in layers so you can add or remove clothing as the weather dictates.
Essential Items
The following items are a must when traveling to Brooks Lodge. A warm jacket or sweater, personal items, walking shoes or boots, sunglasses, raincoat, camera & memory cards, long sleeve shirts, mosquito repellent should be kept with a scarf or hat during your travel.
Optional items you might also consider are binoculars, a head net for bugs, and a day pack to keep items with you during the day.
"Bear Jam!"
Bear activity on the lower river may delay crossing the Brooks River Bridge, Please be prepared to wait in windy and/or rainy conditions and allow yourself ample time to meet meal services and/or your departing flight.
What Not to Bring
We do not recommend bringing bear mace/pepper spray to Brooks Lodge. None of the commercial airline operators (Katmai Air, Alaska Airlines, PenAir, Ravn, etc.) out of Anchorage will allow it on flights.
If you find yourself traveling with bear mace/pepper spray outside of the Anchorage area, be sure to inform your pilot as it may not be packed inside the plane.
For more packing recommendations, take a look at our printable brochures and packing lists or contact our experts by clicking right here.